This recipe is CHOCK FULL of plant protein, vitamins and fiber!
It's gluten-free…vegan…raw…& can be (*should be*) made organic.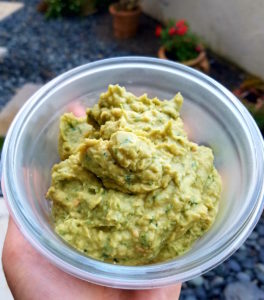 I am NOT one to follow directions.
On recipes, that is.
So most anything I create, and certainly post, is an approximate, because it's been eyeballed and not (strictly) measured out.
Ingredients:
1.5 – 2 avocados
1 15oz can of garbanzo beans, rinsed (can substitute cannelloni beans)
1/2 C of fresh parsley
Juice of 1/2 a lemon
2-3 garlic cloves
2 TB of sea salt
1/2 C of water (more, if too thick)
Optional: generous dashes of either olive oil or grapeseed oil OR anything else you might want to add to your "guac"
Directions:
Prepare.
Blend.
Serve.
Eat.
Enjoy.
(Report back if you tried it.)